ARE YOU READY?  "Beyond the Smoke"
Awoken from a deep sleep and in an instant, first responders can be thrust into a "low frequency, high risk" emergency; and may need to make split-second life or death decisions.  These situations can be incredibly stressful both physically and mentally.

The Firefighters Behavior Health Alliance estimates that about 30% of the nations 1.3 million career and volunteer firefighters suffer from Post Traumatic Stress Disorder (PTSD), with 132 suicides by active and former U.S. firefighters and paramedics in 2015.
This seminar will review several serious incidents that the instructor was personally involved in, and exposes the possible after-affects – both physical and mental stresses—that resulted and can result in others.
The program will also discuss how first responders can improve their ability to be better prepared to handle "low frequency, high risk" incidents.  Discussions include the importance of emotions of the responders, being physically fit and prepared, post traumatic stress disorder (PTSD) and other mental health considerations, and the importance of training for real world emergencies.
This seminar is open to Firefighters, Police Officers, EMT's, and other emergency service professionals.  A version of this class can also be presented to family members of emergency responders.
This program is 2-3 hours in length.  It is available for local delivery (at your agency) or a the All Hands Fire Training Center.
John Sahatjian recently published a featured article in Fire Engineering related to this class.
About the Instructor : https://www.areyoureadyseminar.com/
For details, please email Training@AllHandsFire.com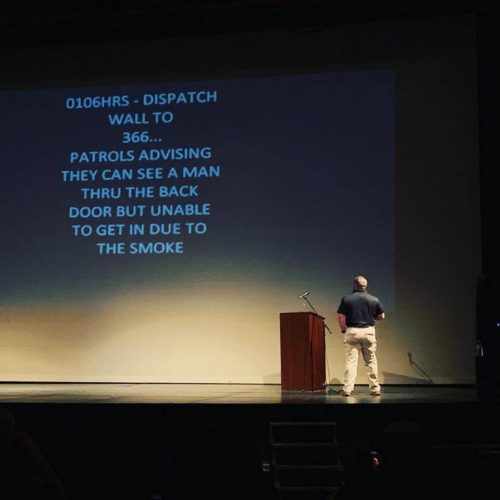 How to Lead in Today's Volunteer Department with John Sahatjian
TESTIMONIAL
While I was the 1st Assistant Chief of the Belmar Fire Department I had Chief Sahatjian come run this pilot program for the guys. It happened to be shortly after a double fatal fire in Belmar. This program directly resonated with all of our firefighters. This class touched on the high risk, low frequency calls that we all respond to and must overcome. It was to the point in asking yourself whether you're physically fit to do the job. Maybe more importantly are you mentally fit to cope with the stresses that come directly with these incidents. This was a class all the firefighters couldn't stop talking about afterwards sparking multiple conversations and debates. Most importantly the firefighters began to talk about their experiences and their exposure to these intense calls. To think we took this program as a pilot I couldn't imagine what it had developed and flourished into today. Thank you Chief Sahatjian. I recommend this to all emergency service personnel. I'll definitely be taking it again!"
Tucker Brendle
Ex-Chief Belmar Fire Department / Howell Township Fire Bureau
Chief John Sahatjian: Please accept this letter of appreciation for presenting the "Are You Ready" class to our department. The class was extremely well received by all members of the department. Unfortunately too many of our brothers and sisters ignore the signs and symptoms of stress and it leads to serious effects on the lives of themselves and their loved ones. Your class has opened our eyes on what to look out for which in turn will help us help each other. Too many times firefighters don't take the time to help themselves and feel that people will think they are "soft". By sharing your life experiences, it made me personally realize that PTSD is all around us and if it is not dealt with, the repercussions can be life changing. Once again thank you for taking the time spending the day with our department. You are truly a professional with a passion for sharing your knowledge and skills. "The best thing we can teach young firefighters is how to become old firefighters!". While I did not create this saying, it is absolutely a true statement. I can be reached at (848) 207-0640 or at tcarson@jacksonfiredist3.org.
Thank you,
Timothy J. Carson, Chief of Department
##