Active Shooter Threat Concept for Fire & EMS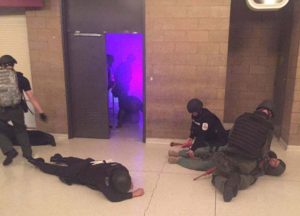 For years Fire and EMS have always responded to emergencies with the goal of helping people.  When we responded to Police-involved scenes, fire and EMS we would stand by and wait for the "All Clear" or the "Scene is Safe".  Unfortunately these tactics can no longer be the standard.
In recent years the increase in Active Shooter/Threat Situations has caused us to broaden our response plans.
This presentation will give students a glimpse of Active Shooter/Threat Incidents and discuss the roles of Law Enforcement, Fire and EMS during these incidents.
We will discuss the following topics.
Definition and Characteristics of an Active Shooter/Threat Active Shooter vs Hostage Barricade
Common Terminology Review of Active Shooter/Threat incidents and what we have learned
Operations in the Hot, Warm and Cold Zones
Role of the "Rescue Task Force"
Equipment carried
Training requirements
Casualty Collection Points
Local Initiatives employing Rescue Task Force
And more.
Our Goal: This presentation will open the eyes of first responders to the ever evolving Active Shooter/Threat that is in our everyday lives.
This is a classroom lecture.  Duration is 2 – 2.5 hours
To schedule this class at your facility or at our training center in Neptune City, please email us at Training@AllHandsFire.com
##