ADVANCED LINE SYSTEMS RESCUE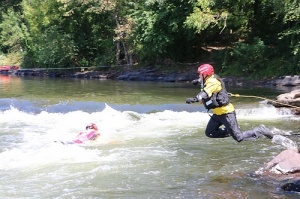 Advanced Line Systems Rescue – Technician Level covers in-water rescue actions, when all other measures including shore-based rescue operations have been exhausted.
This program follows the Awareness and Operations Level courses.  It is designed to train rescue personnel with in-water rescue systems that are complex.  It will expose the rescuer to potentially life-threatening hazards.
The program will look at in-water rescue as a last resort, and the techniques, hazards, dynamics and specialized equipment to support such water rescue operations.
This class requires students to engage in strenuous in-water activities.  It also requires all students to have their own (or department issued) personal protective equipment.
This Technician Level program is mostly hands-on.  Students are to be physically fit and capable of fulfilling all skills in order to successfully complete this program.
This program meets NFPA 1670 – Standards on Operations and Training for Technical Rescue Incidents – Water Search and Rescue.
To schedule this class or for pricing please contact Training@AllHandsFire.com