Bunker Pant Escape System Pocket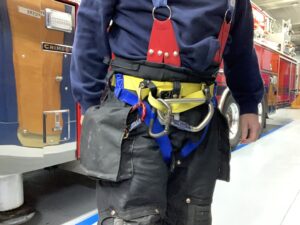 Since 2007, All Hands Fire has equipped and trained thousands of firefighters with personal escape bailout systems.
Through the years we have seen a variety of options for carrying these systems.  Firefighters want comfort, less bulk and less weight.  So the carry options have evolved to accommodate these needs, from the original hip bag, to the lumbar bag and a more recently to the pocket bag.
We see many customer transitioning from the hip bag to the bunker pant pocket.
A customer can use their existing turnout pant side leg pockets and use a bailout pocket insert [ view: Bailout Pocket Bag Insert ].  As they replace their turnout gear, they can purchase the option of an integrated bailout pocket, which is offered by most turnout gear manufacturers.
The integrated bailout pocket was first designed by the Washington DC Fire Department and Globe in 2009, when we (All Hands Fire) were working with them and their purchase of the Petzl EXO Personal Escape System.
The correct configuration of a bunker pant bailout pocket is very important. Here are some recommendations to consider when choosing an integrated bailout pocket.
Have the pocket placed high and up close to the waist.  This will take strain off of the users legs and it will also be close enough to attach the escape systems to the harness attachment D-ring.
Inside the pocket, make sure that there is a "shelf" that divides the rope from the descender.  The descender sits on top of the "shelf".  This piece usually attaches with Velcro and is about 3/4 up from the bottom of the bag.
Make sure that there is a notch on the front side of the pocket to allow the rope to play out when the system is deployed.  There should also be a small capture strap with Velcro to hold the system in place and prevent accidental system deployment.
The front face of the pocket should have a receiver for the hook to seat in to.  It should allow the hook to face forward (the front of the user) so that the user can easily grab and deploy the system.
The front flap should come all the way down to the bottom of the pocket.  It make back rope sewn inside the bottom to offer an easier grab point when deploying.  The Velcro may also be vertical along the sides of the pocket and not across the bottom horizontally.  This is also for an easier deployment process.
All Hands Fire assists many fire departments with choosing what will work best for THEM!  Please feel free to contact us with questions and recommendations.
Email:  [email protected]
Also, please see our other articles on related topics:
Gemtor Harness: Information about the most widely used fire-rescue harness available