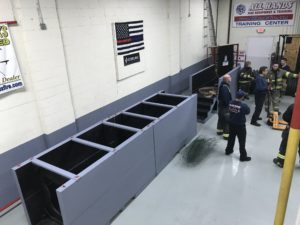 SCBA CHALLENGE COURSE PROPS
All Hands Fire often receives questions regarding our popular SCBA Confidence Course / SCBA Challenge Course props.  We have been lucky to have several talented craftsmen on our staff of instructors who have created our amazing props.
All Hands Fire offers several classes that focuses on the Self-Contained Breathing Apparatus (SCBA), Advanced SCBA, Rules Of Air Management (ROAM) and Firefighter Survival.  These programs utilize our props, which are a series of customized box-type props.  They are designed to mimic a variety of risks and hazards that firefighters can face.
Our props have interchangeable inserts, so we can constantly reconfigure the props and modify the challenge level.  Our props present the firefighter with a variety of obstacles including wire entanglements, studded walls, rafter floor, collapsing floor, reduced side walls, half walls, collapsing ceiling and more.
For local fire departments, this challenge course makes for a great Drill Night session!
For additional details or to schedule a class, contact [email protected]
Photographs of our Survival Challenge Course are provided.