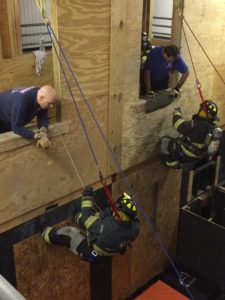 Firefighter Escape Systems continue to be a much sought after item for firefighters and fire departments.
With many options and different configurations, those researching and purchasing these rope bailout systems need to do their research, ask the right questions and ensure that they are getting both what they want and what works for their present turnout gear configuration.
All Hands Fire Equipment & Training has equipped and trained thousands of firefighters with firefighting escape systems.  We are an authorized dealer for all of the leading systems, including: Petzl EXO and EXO-AP, Sterling Rope F4 and FCX, RIT P.R.E.S.S. Systems, Fire Innovations CORE and TALON, DEUS Rescue Systems and CMC Rescue.
Here are a few points to consider when purchasing personal escape systems.
Try the various systems to see which one works best for you as an end user.  The various systems all have an anchor hook, cut and heat resistant rope, attachment carabiner and friction device.  However, the different friction devices all work differently and the systems in general may have slightly different configurations.
Try the systems, keeping a focus on how it works with your specific turnout gear.  Your bunker pants are designed a certain way and so you will want to make sure that the escape systems can work in harmony with that configuration.  As an example, left side or right side closing bunker pants – it makes a difference!
You will need a Class II Harness or Escape Belt.  This is needed to attach the escape system to the user.  There are several bag options to consider.  The most popular is a hip bag that attaches to an exterior harness waist strap.  There is also a lumbar bag, which also attaches to an exterior harness waist belt, but this is not as popular.  The last option is to place the system into the users bunker pants pocket with a bag insert or a manufactured pocket.
Internal harnesses built into turnout bunker pants have become a popular choice for many fire departments. However, there are issues to consider, such as:  (1) not so easy to adjust in order to achieve proper fit and placement on the end user, (2) reduces users ability to inspect the harness, as is required by NFPA, (3) can cause wear and break-down to internal turnout gear protections, (4) the A-frame and/or attachment to the escape system is sometimes too long, and when the system is deployed, places the descender out of reach for the user.
The Gemtor Harness is one of the most popular harnesses used by firefighters.  It is multi-functional and works incredibly well with escape systems.  However, when purchasing the Gemtor Harness, firefighters must choose the correct one – Right-side closing or Left-side closing.  The closure should match that of your bunker pants – right side closing bunker pants uses a Right-side closing harness. And, the addition of an escape system would be on the opposite side of the closure.  This can pose some issues depending on specific escape systems, bag choices and overall configurations.
The use of "tethers" (or "lanyards") are sometimes necessary when purchasing an escape system.  These are usually found for systems that are stored in bunker pant pockets.  Their purpose is to fill the distance between the carabiner of the system in the pocket to the attachment point on the harness.  In doing so, it allows the escape system to stay protected in the users pocket.
Fire Departments considering escape systems should also understand and be sensitive to their members skill levels. Handing a bailout system with 50-feet of rope and an anchor hook to someone requires care and considerations.  Having all members attend an End User Training session sanctioned by the manufacturer is a vital piece to the escape system purchasing process.
All Hands Fire has had a unique opportunity to interact, test, collaborate and consult with escape system manufacturers on their escape system equipment.  In addition, we have also been incredibly fortunate to have demonstrated, equipped and trained thousands of firefighters in fire departments both big and small.
We hope that the information provided here will assist your department in making the right choice for you. If you have any questions about escape systems, please contact us for assistance, support and guidance. Because we offer all of the leading NFPA-certified systems we can provide a non-biased perspective view that will help in your pursuit of escape systems.
For details contact All Hands Fire Equipment & Training at [email protected] or call us at (888) 681-1009.
##