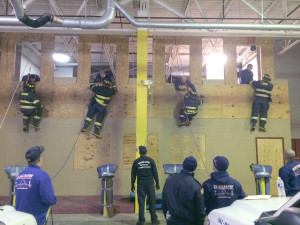 Newark Fire Department's "Probationary Firefighters" class received training of Firefighter Escape Systems.  The training was provided by All Hands Fire Equipment & Training, based out of central New Jersey.
41 recruit-firefighters received the training on Tuesday, January 6 at Newark Fire Department's Orange Avenue training facility.
The recruits attended a classroom session which introduced them to the Sterling F4 Firefighter Escape System and the Gemtor Class II Rescue Harness.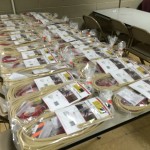 Students then donned the harness and escape system and began training on skills that included proper deployment of the system, horizontal movement while maintain rope tension and control, and repacking the system.
Then each recruit performed nine (9) bailout jumps, each at varied levels of difficulty.  The final three jumps were in black-out / zero visibility conditions.
All Hands Fire Equipment & Training provides Firefighter Escape Systems and Gemtor Class II Harness training nation-wide.  Their instructors have trained and supervised well over 25,000 bailout jumps.
For details and information on Escape Systems training, please contact Training@AllHandsFire.com.