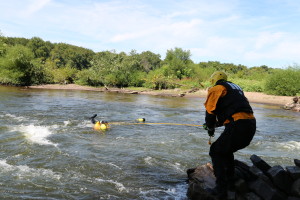 May 2015
All Hands Fire Equipment & Training was recently awarded a contract by the County of Union to provide Water Rescue training and Emergency Boat Operations training to firefighters and responders from that New Jersey county.
The training includes all levels of swift water rescue – Awareness, Operations and Technician.  Students will attend classroom sessions, participate in skill stations in a swimming pool, and then will continue to build on skills in moving water environments.
The training also includes a 16-hour Emergency Boat Operations training class.  This program will include boat orientation, deployment, operations, maneuvering, reconnaissance, rescue and more.
In addition to training, All Hands Fire will be providing water rescue equipment including Dry Suits, Personal Flotation Devices (PFDs), throw lines and other related items.
For more information on Swift Water Rescue and Emergency Boat Operations training, please contact Training@AllHandsFire.com.
You can also visit our websites at www.AllHandsFire.com and www.AllHandsFireTraining.com