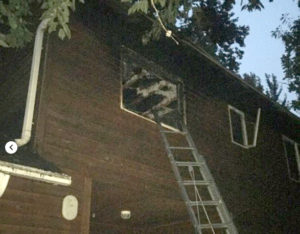 Clackamas County firefighters performed a daring rescue and second floor escape system bailout in the early morning hours of Wednesday, September 6, 2017.
At 3:46 am, Clackamas Fire District 1 responded to a residential fire in Happy Valley.  First arriving units were advised that a female was trapped inside the residence on the second floor.  The front of the dwelling had heavy fire conditions, which forced firefighters to enter through a rear patio door.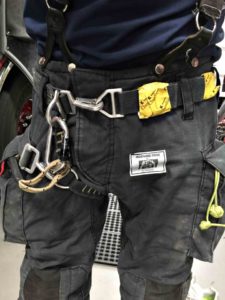 Once inside, firefighters were confronted with heavy fire, heat and smoke on both the first and second floors.   Conditions were so intense that firefighters later reported that the carpet was melting under their boots.
They were able to navigate to the interior stairs, access the bedrooms and perform primary searches.  It was at this time that firefighter located the trapped occupant.   The firefighters isolated themselves in the bedroom by closing the interior door.  They then identified a bedroom window and radioed that the victim was located and that they would not be able to exit the structure via the interior stairs.  They advised that they would have to exit from a second floor window.
As conditions continued to deteriorate rapidly, firefighters broke out the bedroom window.  One firefighter deployed his personal escape bailout system, he used the systems anchor hook to anchor into the window sill, and he bailed out the window.  He held his position just outside the window as the other firefighter led the occupant to the same window.  He assisted her out the window and onto the firefighter that was hanging from his rope.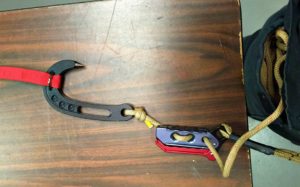 Once she was out, the second firefighter then deployed his escape system, anchored at the window sill and bailed out.  As he exited the room, the bedroom became engulfed in fire.
The two firefighters came to rest just below the second story window with them holding the victim.  At the same time, another crew was raising a ladder to assist in the rescue.  The occupant was assisted onto the ladder, where another firefighter helped her down.
The patient was alert, able to walk to the stretcher, and was transported to the hospital.
Additional engine companies continued to suppress the fire and within 30 minutes, the fire was under control. Fire investigators were on scene to determine a cause.  No firefighter injuries were reported.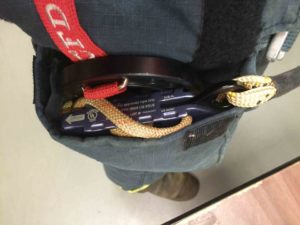 Firefighter Escape System Equipment Used:
For additional information on escape systems and training, please contact Training@AllHandsFire.com   
Photos shown courtesy of Clackamas Fire District #1
###