Auto Extrication Training
All Hands Fire offers several options for Auto Extrication training.  Programs are provided based on a departments need, skill level, equipment capability and budget.
Our programs follow NFPA 1006, Chapter 8, Vehicle Rescue.  This includes the Operations Level – Passenger Vehicles (8.2) and Technician Level – Commercial or Heavy Vehicles (8.3).
Vehicle Rescue Classes cover: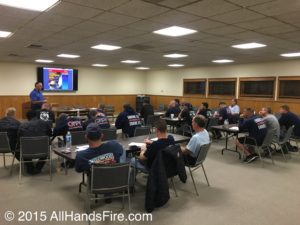 Classroom session
Tool / Equipment Familiarization and Use
Air Bags
Cribbing
Vehicle Stabilization
Basic Patient Care
Vehicle Extrication – all 4 wheels on the ground

Basic Cutting
Dash Roll
Pop / Cut Doors
Roof Lifts / Removals
Vehicle Rescue Programs offered:  
Vehicle Rescue, Operations level
Vehicle Rescue, Technician level
Vehicle Rescue, Refresher
Customized Vehicle Rescue program
New Equipment training
Specific focus on:

Tool and Equipment
Patient Care in advanced car crash scenarios
Vehicle Extrication technique
Other needs
Our instructors are comprised of company officers and firefighters assigned to busy companies that routinely train, respond to and teach Auto Extrication.  The staff includes members of FDNY Special Operations, Newark Fire Department, Jersey City Fire Department, NJ Task Force 1 and other active emergency service agencies.
For additional information and to receive a proposal, please contact Training@AllHandsFire.com 
---
Customized programs are available.  Also, customers may choose to focus on specific areas of extrication, which we can also provide.  Contact Training@AllHandsFire.com for pricing and to schedule.
All Hands Fire Equipment is a proud dealer for Champion Rescue Tools