RAPID INTERVENTION TEAM (RIT) / FIREFIGHTER RESCUE / F.A.S.T. / R.I.C. TRAINING PROGRAM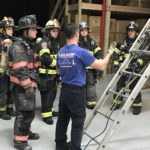 Firefighter Rescue Training provides students with the skills necessary to rescue their fellow firefighter, should an emergency occur. Whether you have an established Rapid Intervention (R.I.T.) Team dedicated to rescuing downed firefighters or not, all members should be prepared and knowledgeable on the skills and techniques necessary to execute a rescue.
Many of the techniques offered are lessons learned from tragedy.
Our program is compliant with NFPA 1407: Standards for Training Fire Service Rapid Intervention Crews guidelines, the NJ Division of Fire Safety "Rapid Intervention Crew Training Guidelines", and other recommendations and guidelines.
Firefighter Rescue Awareness and Operations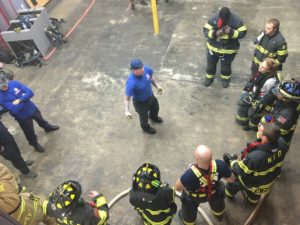 Length: 20-24 hours
Site Requirement: Vacant Building or Fire Academy
PROGRAM OUTLINE
Classroom Session – Awareness level:
Introduction to "Firefighter Rescue", equipment, techniques, Line of Duty Death review and written test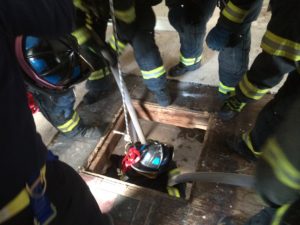 Hands-On Training – Operations level:
Drags & Carries
Calling Mayday
Firefighter / Victim Packaging
Situational Awareness
Supplemental Air Supply for Downed Firefighter / Rescue
Using a Ladder as a High Point
Downed FF Up and Down Stairwell
Denver Drill – Rescue from confine and tight spaces
Nance Drill – Rescuing firefighters from basements and other lower areas
Rope Assisted Search – Includes large area search and rapid searches
Scenario(s):

Mission based – RIT team(s) will be provided with incident scenario(s) and will perform the rescue of downed firefighter(s)
Students will utilize all skills learned in the skill stations
RIT / FIREFIGHTER RESCUE SKILL SESSIONS – RIT REFRESHER
All individual skills that are outlined in our Operations level program can be delivered as a stand-alone training session.  This can be provided as a Drill Night or half-day session, a full day session or a series of sessions to meet the needs and schedules of the customer.
These are great Refresher sessions!
To schedule a class, please contact Training@AllHandsFire.com