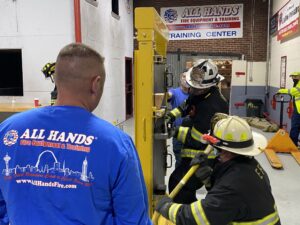 FORCIBLE ENTRY TRAINING
Forcible Entry is an essential skill in the fire service. Firefighters should be able to size-up and effectively force doors to gain access.
This program covers conventional forcible entry on inward and outward swing doors. We focus on techniques and maximizing the tools design.
We reference the FDNY Forcible Entry Reference Guide, Chapter 8 and the teachings of Captain Robert Morris, FDNY Rescue Company 1 (retired).
This hands-on training can be done at our indoor training center, where we have two forcible entry props.  Our focus is on using a 30″ Pro-Bar Halligan and 8-lbs Force Axe.  Other tools also work well and can be incorporated into the training session.
This session is 2-4 hours.
To schedule this class, please contact [email protected]
Check out our Forcible Entry Tools.
> Irons
> Pro Bar Halligan
> 8 lbs Force Axe
> Hydra Ram
> Force 3 Irons