Man vs. Machine Rescue Training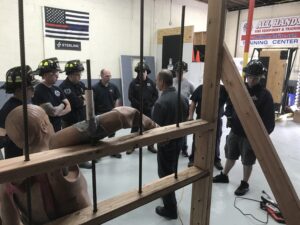 Students are instructed on methods they can use to disentangle victims from a variety of situations. Basic techniques for removing rings are addressed. Evolutions progress in complexity to include auger entrapments, impalements (fencing/inside vehicles), persons trapped under vehicles, torch operations, as well as other "tips & tricks" learned from real-world experiences.
The Classroom and Practical Skills portion of the program focus on finding the least complicated method of performing such rescues rather than "overthinking" the given situation.
The class schedule is generally conducted in an 8 hour day session. Customized classes are also available.
8:00 – 11:00   Instructor-led Lecture supported by Power Point
11:00 – 11:15   Break / Divide into Groups for Stations
11:15 – 12:00   Skill Station 1
12:00 – 12:45   Lunch
12:45 – 1:30   Skill Station 2
  1:30 – 2:15   Skill Station 3
  2:15 – 3:00   Skill Station 4
  3:00 – 3:45   Skill Station 5 – Group Exercise
  3:45 – 4:00    Hot wash / Evaluations / Dismissal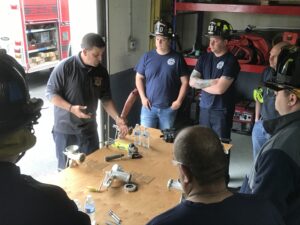 Practical Skills Stations / Scenarios
Ring Removals, Odd Job Rescues, Man vs. Machinery Kit Development
Fence / Rebar Impalements, Fence Entrapments
Meat Grinder Entrapment
Car Lift Using various techniques, cribbing methods and the importance of creating a proper / safe work area
Torch Familiarization – * Dependent on type of torch used by host agency
Commercial Auger / Press Machine Entrapments – *Location dependent
This program references:
NFPA 1006: Standard for Technician Rescue Professional Qualifications, Chapter 10
Essentials of Fire Fighting and Fire Department Operations 5th
IFSTA – International Fire Service Training Association
Man vs. Machinery DVD – PennWell Publishing
Instructor Resources
Man vs. Machine Kits available from All Hands Fire Equipment
All Hands Fire offers this class as an open enrollment.  The program can also be delivered at your firehouse.  In cases of local delivery, the customer would be required to purchase a list of supplies that include meat grinders (that will be cut and destroyed), wood and rebar for fence prop, and other materials.
For additional information or to schedule a class, please contact [email protected]