Petrogen Cutting System:  Basic Use and Operations for Firefighters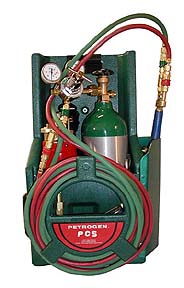 All Hands Fire is an authorized dealer for the Petrogen Cutting Torch.
In addition to offering the Petrogen Torch, parts and accessories, we also offer a training program on the basic use and operation of the torch system.
Our Basic Use and Operations for Firefighters program is ideal for customers who are new to the Petrogen Cutting Torch.  It is also a really great refresher for customers who have a torch, but may not have an opportunity to use it regularly.
Our program includes a classroom session and hands-on practical skills.
Click here for Petrogen Parts and Accessories
The format and content for our program is delivered the following manner:
Brief classroom session – Introduction of torch: How it works; What it cuts; System components
Safety considerations– Manufacturer recommendations; When to and when not to use; PPE / Eye and Hand Protection; Hazards with torch materials (gasoline, oxygen, open flame); Surroundings; Materials being cut. 

Torch set-up – Necessities – Petrogen Torch, Gasoline, Oxygen; Prepping torch and related equipment for use; Pumping the tank; Proper hose attachment, back flash arrestor; Inspect all fittings and connections; Selecting the correct tip size
Cutting basics – Proper PPE; Torch ignition (oxygen and gas mix); Spark Igniting; Flame quality (too rich vs. too lean); Slag; Hazards (steel shifting, falling, moving, unpredictable action)
Clean-Up – Inspect tips and system after use; Clean tips; Gasoline maintenance – avoid using stale gas; Care and maintenance as per manufacturer recommendation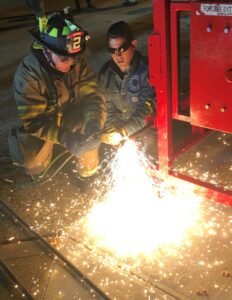 This program can be customized at the customers request.
The customer is required to have a functioning Petrogen Torch prior to scheduling of this class. Other class requirements apply and are provided in a detailed proposal.
For additional information on the Petrogen Cutting Torch and for a training proposal, please contact Training@AllHandsFire.com
##