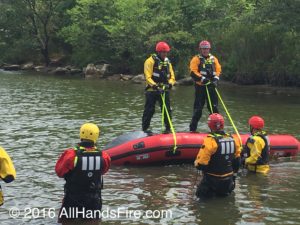 EMERGENCY BOAT OPERATIONS AND RESCUE TRAINING CLASS
This is a must-have course for any rescue unit involved with on-the-water operations, including in moving water and urban water environments.
The Emergency Boat Operations and Rescue course trains rescue personnel to operate and rescue individuals utilizing boats as a rescue platform.
Course components include classroom and practical hands-on training in: boat selection, rescue craft outfitting, boat handling, moving-water tactics, emergency boat procedures, and boat rescue techniques.
This program meets or exceeds NFPA 1670 Standards on Operations and Training for Technical Rescue Incidents – Technician-level guidelines for Water Rescue.
Prerequisite:  An approved Swift Water Rescue Operations course and boating safety certificate. Non PFBC operations level certificates will be reviewed by All Hands Instructors and PFBC staff.
FEMA Id: 15-32936
16 hour program
To schedule this class or for pricing please contact Training@AllHandsFire.com
To schedule this class, please contact Training@AllHandsFire.com
##