BASIC ROPE OPERATIONS TRAINING
All Hands Fire offers two levels of Rope Training.  The first is "basic Ropes and Knots" and the second is "Basic Rope Operations".  These programs progress through a wide variety of rope principles and practices.  They provide students with a great deal of hands-on exposure and team building.
Basic Ropes & Knots
Students are introduced to a variety of basic rope uses and information, as well as a review of basic knots.  Each students is provided with rope (included).  This program is 3-4 hours.
Rope Rescue Training 
Rope Rescue Operations and Technician training follows NFPA 1006 Standards for Technical Rescue Personnel Professional Qualifications, Chapter 5 – Rope Rescue.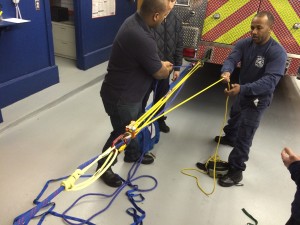 Customized Classes
Rope training programs can be customized to focus on specific skills, products and needs.
For information on classes offered, please
email us at Training@AllHandsFire.com
Please note that rope rescue training and training at height is dangerous.  For shorter training sessions, students will likely not achieve "certification" that meets a standard like NFPA 1006.
##