BASIC ROPE OPERATIONS TRAINING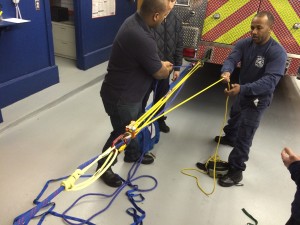 All Hands Fire offers two levels of Rope Training.  The first is "basic Ropes and Knots" and the second is "Basic Rope Operations".  These programs progress through a wide variety of rope principles and practices.  They provide students with a great deal of hands-on exposure and team building.
Basic Ropes & Knots
Students are introduced to a variety of basic rope uses and information, as well as a review of basic knots.  Each students is provided with rope (included).  This program is 3-4 hours.
Basic Rope Operations
The Operations Level is a more in-depth hands-on program.  It is a 20-hour training class in which participants will create various rope systems and work on rope at height.
The program is broken down into the following:
Session #1:  Classroom lecture – Introduction, Ropes, Knots, Hardware, Figure 8 family, Prussiks, Belay Devices/Methods, Fall Protection, and more.
Session #2:  Rigging and anchors, 3:1 (Z-rig)/4:1/Compound Systems/multiple anchor systems, rescuer communications.  Transition from lowering to hauling/hauling to lowering.  Petzl ID/MPD.  Patient packaging rigging with SKED and Stokes.  Vertical and Horizontal hauling movement.
Session #3:  Scenarios at tower with Patient packaging, hauling systems raises and lowers, utilizing belays and (time allowing), Introduction to Rappelling in afternoon.
Customized Classes
Our Rope Operations programs can be customized to focus on specific needs and/or rope rescue products and systems.
For information on classes offered, please email us at Training@AllHandsFire.com
##