TRAFFIC INCIDENT MANAGEMENT SYSTEM (T.I.M.S.) TRAINING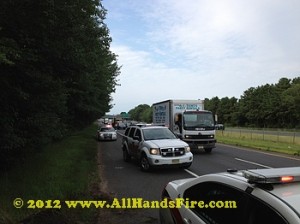 Every year, too many firefighters and first responders are injured or killed from being struck by vehicles at the scenes of motor vehicle incidents. Many of these injuries/fatalities are the result of improper scene safety measures, improper selection and use of PPE, lighting and apparatus placement.
To that end, the U.S. Fire Administration (USFA) and the U.S. Department of Transportation (DOT) Federal Highway Administration, working in partnership with the International Fire Service Training Association (IFSTA), have developed a report (TIMS – Traffic Incident Management System) that provides technical guidance and training programs in traffic incident management for fire and emergency service providers.
This course will present the guidelines and procedures that comply with the DOT's Manual of Uniform Traffic Control Devices and the National Fire Service Incident Management (IMS) Consortium's Model Procedures Guide for Highway Safety.
CONTENT:
> Introduction – Statistics
> Incident Case Studies
> Equipment to Improve Highway Safety
> Setting Up Safe Traffic Incident Management Areas
> Incident Command for Highway Incidents
> Best Practices and Other Sources of Information for Effective Highway Incident Operations
> Recommendations
OPTIONS:
> Classroom only is 2-3 hours in length.
> Classroom and hands-on is 5-8 hours.