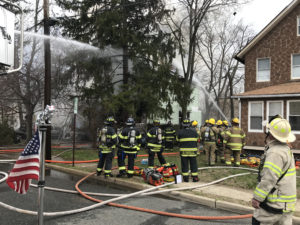 Fire Officer Development Program
All Hands Fire Training is proud to offer our newest Training Program.  FIRE OFFICER DEVELOPMENT.   This 20+ hour training course will be delivered by an outstanding group of experienced and knowledgeable instructors with diverse backgrounds.  The program's content applies not just to new officers, but also to those experienced bosses.  It contains a wide range of information that is both applicable and relevant to todays fire service leaders.  Each unique program will be delivered in a multimedia format, with each instructor challenging and encouraging students interaction.  The class is limited to 25 students, so register early!
NOTE:  Fire Officer promotional content will be included at several sessions.
Session 1:  THE NEW OFFICER  –  Tuesday, September 26 @ 7:00 PM
Presented by Ex-Chief/Commissioner Patrick Buckley, Hillsborough, NJ
Session 2:  LIABILITIES  –  Wednesday, September 27 @ 7:00 PM
Presented by Ex-Chief/Paramedic David Shotwell, Esq., Ocean Grove, NJ
Session 3:  TRAINING   –  Thursday, September 28 @ 7:00 PM
Presented by Ex-Chief Raymond Maguire, Freeport, NY
Session 4:  FIREGROUND MANAGEMENT  –  Tuesday, October 3 @ 7:00 PM
Presented by Deputy Chief Michael Terpak (retired), Jersey City Fire Department
Session 5:  STRATEGIES & TACTICS  –  Thursday, October 5 @ 7:00 PM
Presented by Deputy Chief Paul Drennan, Jersey City Fire Department
Session 6:  EMERGENCY PREPAREDNESS  –  Tuesday, October 10 @ 7:00 PM
Presented by Emergency Management Coordinator Michael Oppegaard, Monmouth County
Session 7:  EMERGENCY SERVICES MENTAL HEALTH  – Thursday, October 12 @ 7:00 PM
Presented by Chief John Sahatjian, Wall Township, NJ
For details, please contact Training@AllHandsFire.com