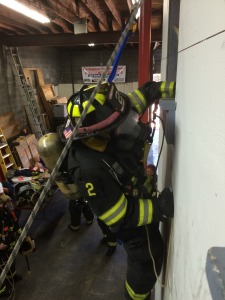 All Hands Fire Equipment & Training is proud to announce that we will be providing eight days of training to the Stratford Fire Department in Stratford, Connecticut.
Stratford Firefighters will be receiving the Sterling F4 personal escape system, which consists of the F4 auto-locking descender, Lightning GT anchor hook, 40-feet of Firetech rope and lumbar carry bag.  The system will be connected to the Gemtor 541NYC Class 2 harness.
The training will consist of the Sterling Rope approved Basic End User training class.  This program includes a classroom session, skill stations for students, followed by nine bailout jumps at varied levels of difficulties.
In addition, All Hands Fire instructors will be providing to several Stratford firefighters the Sterling F4 Train-the-Trainer program.
Training will take place in early December 2014 in Stratford.
All Hands Fire Equipment & Training is an authorized Sterling Rope dealer and trainer.  They provide firefighter escape systems training across the nation and have supervised and trained thousands of firefighter bailout jumps.
For additional information and details on firefighter escape systems, please contact Training@AllHandsFire.com