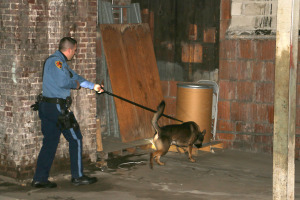 Police Officers from the United States Parks Police and New Jersey Transit Police took part in Bomb Detection Training on November 13, 2014.
The training was conducted at the All Hands Fire Training Center located in Neptune, New Jersey.
Police K9 handlers and their partners performed a variety of security sweeps in search of trinitrotoluene (TNT) and other materials.  In some scenarios, no substances were to be found.  But in others, the substances were hidden and quickly located by the canines.
One officer commented, "the dogs are the brains behind this team.  I just manage the search".  And once a substance is located the dog is rewarded, which includes a great deal of excitement and praise.
The officers and their canine partners who attended this training protect the Statue of Liberty and similar national park sites, as well as NJ Transit facilities.  They also can be seen at college and pro sporting events, concert venues and many other large scale events.
NOTE:  The substances used for training are not a hazard or danger.