Article published in April 2015 issue of NEW JERSEY FIRE Magazine (page 6)
By Donald Colarusso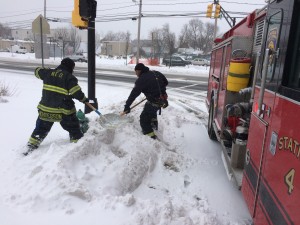 New Jersey towns with volunteer fire departments have to battle more than fires these days. We work relentlessly to get women and men to volunteer for our fire departments. But once we get them in the firehouse, keeping them there is another matter.
Clearly, retaining our volunteer members is a hot topic for NJ fire departments.
From what I'm seeing, volunteers are required to do a lot more than they were 20 years ago. Firefighter 1 training is longer. There are more training drills and the meetings. There's fundraising initiatives in fire houses. And in overall, volunteer firefighters are being given more responsibilities than they have in years past.
Couple it with the cost of living having gone up; volunteers need to work two jobs, they can't afford to work in the town that they grew up and volunteer in, and now have to travel longer distances to get to the firehouse. Consequently, a volunteer might not continue to have the time to go to alarms and calls that would otherwise be considered routine.
A person's time is valuable, and understandably it seems that  people have less time to give.. And considering that the volume of calls is increasing it's definitely becoming a concern.
So how can we keep them coming and coming back?
I have served as chief of two volunteer departments.  I have learned a few lessons, some of them the hard way.  Here are a few things  I've seen or have done that have been positive.
Start a LOSAP – Length of Service Awards Program. This is basically a retirement account that can be created for department members. Every time they respond to a call, they receive a certain number of points. At the end of the year, the points are accrued and the town grants a certain sum of money to go into a retirement account. Once the account matures, the volunteer has the opportunity to withdraw it.
Another incentive program we have used is for the town to coordinate with a county college or institution of higher learning to contribute to tuition reimbursement. You can attend college if you are an active volunteer. This is a great way to recruit and spark the passion in some of the young people in town.
Some towns have clothing allowances or reimbursements for attending a certain number of calls. It's probably a good idea to consider some type of monetary reward a volunteer can receive.
But keeping the passion to fight fires burning needs to run even deeper.
In my experience, another mechanism we always tried was to have programs set up in such a way that the member would be motivated and want to achieve some milestone. The first one's should be graduation from the fire academy's Firefighter 1 program.  Another is  to earn their "active membership" (aka being taken off probation).  This is something that a department should make a big deal about, because it deserves to be.
Another step could be something like if your company has a rapid intervention team, a technical rescue team or some  type of specialty team that they can become part of.  This generally requires the member  taking on additional training and, once again, earning the advancement.
Another incentive for them at some point would be to become an apparatus  driver. Some people get very excited about that, but it's something they have to earn. You just can't put somebody in the driver's seat if they have never been to a fire and understand the importance of that role.
For many fire department members, one of the biggest motivations is to  achieve rank – lieutenant, captain, assistant chief and then chief. Or they could focus on the administrative  branch of the department and work to become  the president or trustee; even chairman of a committee. Some of those positions are very important and they carry a lot of weight with members.
Whatever the case, motivate them to want to get something, even if its giving away fire department apparel or an essential item like a personal flashlight.  . If we can acknowledge them, we can give them encouragement. The reality is that in some departments, you always have to dangle the carrot.
When it comes to recruiting firefighters, it's a funny thing.  It brings in such a diverse group who join for many reasons.  Generally some of the most passionate people are those who have personally been affected by a fire or emergency.  For others it is "something I always wanted to do, but never found the time".
In my company we have a guy that always wanted to be a firefighter.  He is a bit older, but was in the top rankings of his fire academy class, is always positive, is a top responder and the perfect fit for a firehouse.  Those guys are out there.  It's finding them, giving them incentive to join and keeping them motivated that can make the difference.
Donald Colarusso is the founder and owner of All Hands Fire Equipment & Training in Neptune City. He has been a firefighter since 1987 and served as a Chief Fire Officer for six years. He is a NJ Certified Level II Fire Instructor and an instructor for the Ocean County Fire Academy.