ARTICLE REPRINT:  New Jersey Fire Magazine
August 2015 Issue | Page 40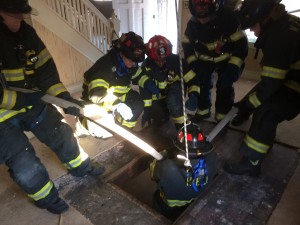 For me, personally, I got involved with Rapid Intervention Training (RIT) following a very close call when we responded to a house fire at 930 Prospect Street in Trenton on December 22, 2006.
Two of our firefighters were trapped in the basement when the first floor had a flashover. Another one was trapped on the first floor and two were stuck on a porch roof when the fire consumed their ladder. Members rescued the two firefighters from a basement window using a full removal of their SCBA, and the guys on the roof considered jumping but firefighters were able to rescue them with a portable ladder. The other guy…my partner and I were able to enter under the fire to rescue the firefighter from the first floor. He used self-rescue techniques and we were able to assist him to safety.
All these techniques were taught to us in department-wide training a month before the fire. Our Battalion Chief, Robert Tharp, had created rescue training for the Trenton Fire Department. When we were at that fire, it was almost like we took a playbook out and said, "Let's do X-Y-Z." And it worked just liked the training. All five guys were rescued with very little injury.
Seeing all the things we did right, all the things we did OK and all things we could have improved upon was life-changing for me and made me get interested in rescue training. All Hands Fire Equipment and Training has given me a great platform, and I feel like we are doing something very important by providing an innovative RIT class for volunteer and career firefighters.
Hopefully, it doesn't take a fire like the one I was in that day to help you understand the need and the value of RIT and rescue training. I think you have to be able to look in the mirror and ask yourself, "Am I ready to go in and make the rescue? Am I ready to bail out a window? Am I ready, able, willing, prepared and trained?" RIT and rescue training will help you make sure you are ready, willing and able.
We have developed our curriculum at All Hands with a lot of instructors on their staff. It's a collaboration of many talented instructors. The nice thing is that we can tailor the program to fit the needs of the fire department, whether you are 3-4 or 500-member department.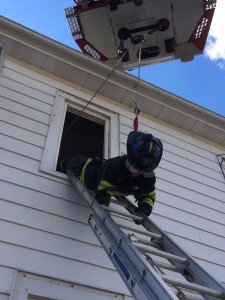 I think the need for this training has been borne out of necessity. Firefighting hasn't changed so much, but the buildings have. Firefighters are no more or less aggressive than 25 or 50 years ago, but they are finding themselves in situations they never would have been in 25 or 50 years ago. We're going deeper into buildings; we're going through the front door and falling into the basement. We have taken a look at this stuff as an industry and asked about how prepare ourselves. That's why the need has become so great.
We try to bring our passion to the training and that helps connect with students. We start out with an awareness section, more of an introduction as what the training is and why it's crucial. We go through the drags and carries, but we show multiple ways of doing things that pull techniques from a variety of instructors who come from places like FDNY, Washington D.C., Newark and Trenton. Students get a chance to see several ways to do the various skills.
A lot of what we do is picking apart difference scenarios, different close calls and even fatalities. We do many of the drills that have resulted from tragedy and are recognized nationally, like the "Denver" Drill and the "Nance" Drill. We take that training, all the lessons learned and some of our own training and culminate that into one, big real-world scenario that puts students through four or five obstacles. We try to make it as stressful as possible to show what it will be like when there are communication lapses, command breakdowns and scenarios that compel students to continue problem-solving.
At All Hands, we're able to package high-energy, high-level training that is both relevant and economical. I think individual firefighters and fire chiefs and commissioners and leaders have to make sure they are doing the things they need to be doing to make sure they are prepared. Hopefully, it's something you never have to us, but this is training you can't put a price tag on.
Michael Burzachiello is an Instructor at All Hands Fire Equipment & Training, and is a captain for the City of Trenton, assigned to Engine Company 3.  He also teaches Trenton's probationary fire recruits and is a staff instructor with the Mercer County Fire Academy. Mike holds an Associate's Degree in Fire Science from Mercer County Community College and Bachelor of Arts degree from Rider University. Contact Mike at burzachiello.allhandsfire@gmail.com.
***