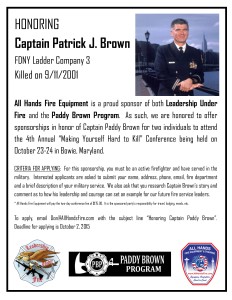 All Hands Fire Equipment LLC is a proud sponsor of the "Making Yourself Hard to Kill" program and the "Paddy Brown Program".
The story and legacy of FDNY Captain Patrick Brown is an amazing one.  Personally, I admire this man so much and only wish that I had had an opportunity to meet him.
To honor Captain Brown, All Hands Fire Equipment will be offering two sponsorship's to Leadership Under Fire's 4th Annual "Making Yourself Hard to Kill" Conference in Bowie, MD on October 23-24.
For this sponsorship, you must be an active firefighter and have served in the military. Interested applicants are asked to submit your name, address, phone, email, fire department and a brief description of your military service. We also ask that you research Captain Brown's story and comment as to how his leadership and courage can set an example for our future fire service leaders.
To apply, email Don@AllHandsFire.com with the subject line "Honoring Captain Paddy Brown". Deadline for applying is October 2, 2015.
2015 Leadership Under Fire – Paddy Brown Sponsorship
##