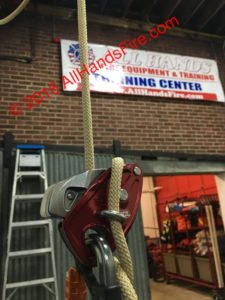 Introduced at this years Fire Department Instructors Conference (FDIC) in Indianapolis, Petzl released the new EXO-AP Personal Escape System.
The EXO-AP (model #D30AB 015) is a new and re-designed version of the original EXO (model #D30015 B), which originally hit the fire service in 2006.  This new device is lighter in weight and smaller than it's predecessor.
The "AP" stands for anti-panic, a unique feature that has been engineered into this descending device.
The descender has a self-braking system with anti-panic function for quickly moving horizontally, climbing through a window and controlling and stopping a descent.  If the user pulls too hard on the handle, the anti-panic function brakes and stops the descent automatically.
EXO AP HOOK also includes a rope that resists wear and high temperatures, an Am'D connector with CAPTIV positioning bar, as well as an optional bag for transporting and attaching the system directly to the harness.
View video:
All Hands Fire Equipment & Training has been a dealer and trainer for the Petzl EXO system since 2006, when it was first introduced.  We have trained and supervised thousands of EXO bailout jumps.
For details on the new Petzl EXO-AP, please contact us at Sales@AllHandsFire.com.
##