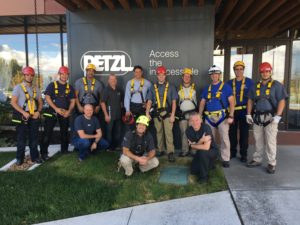 SALT LAKE CITY, UT:
The new Petzl EXO-AP Firefighter Escape System was introduced to the fire service in April 2016.  This new bailout system for firefighters introduced improvements including its unique "Anti-Panic" (AP) feature, as well as being smaller and lighter in weight.
All Hands Fire Equipment & Training, based in New Jersey, has been an authorized Petzl dealer and trainer for the EXO since it was introduced in 2006.  They have equipped and trained thousands of users with firefighter escape systems.
All Hands Fire attended the very first EXO train-the-trainer class.  Now they have successfully completed the very first EXO-AP train-the-trainer class.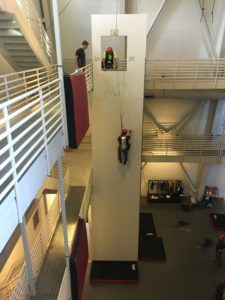 "It is such an honor to have been with Petzl and the EXO program since it was released to the nations fire service", said Donald Colarusso, President of All Hands Fire Equipment LLC and an authorized EXO and EXO-AP trainer.  "We are proud that we have helped make firefighters safer with these bailout systems".
The program was held on October 5th and 6th at the Petzl Technical Institute located in Salt Lake City, Utah.  The two day session included a detail focus on the EXO-AP – its use, functions, troubleshooting, deployment and operation.  Trainers also worked with safety belay systems and other Petzl products including the soon to be released GriGri-Plus, ASAP, I'D and more.
All Hands Fire Equipment & Training is one of only a very select few in the nation who are authorized
trainers for the Petzl EXO-AP.
Interested in EXO-AP Firefighter Escape System information?  Looking to schedule a training session? Contact All Hands Fire at Training@AllHandsFire.com
You can also visit their website at www.AllHandsFire.com or www.AllHandsFireTraining.com