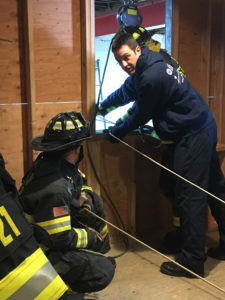 "The upcoming schedule features our most popular courses, as well as some new programs", said All Hands Fire Equipment President Donald Colarusso.
The programs are held at their Neptune City training center located on 3rd Avenue & Memorial Drive.
"We are building on the outstanding success that we saw in 2016, where many of our classes were sold out", said Colarusso.  "We are also continually improving our programs using student feedback, instructor reviews and discussions, as well as always monitoring the nations fire service – new techniques, lessons learned, and networking with officers and instructors from across the country".
The new 2017 training catalog can be viewed by clicking to 2017 All Hands Fire Winter / Spring Training Calendar
In addition to the classes held at the All Hands Fire Training Center in Neptune City, NJ, All Hands Fire instructors also travel to their customer's towns to provide the training.
Since November, All Hands Fire has held numerous classes at their training center, as well as travelling to West Virginia, Connecticut, Virginia and several municipalities in New Jersey.
For details, training proposals or to schedule a class, please contact Training@AllHandsFire.com