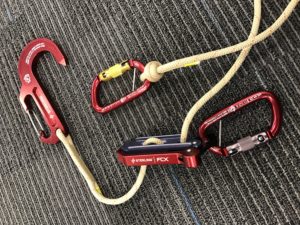 BIDDEFORD, ME:  Sterling Rope has introduced their second generation escape system descender.  The FCX descender (Fast Control Xcape).
The FCX auto locking descender is improved, with the key feature being an Anti-Panic handle.
Other features include elevated side rails, improved design for rapid horizontal movement, cam provides superior braking and spring-loaded handle for improved operation.
It is also UL-certified to NFPA 1983-2012.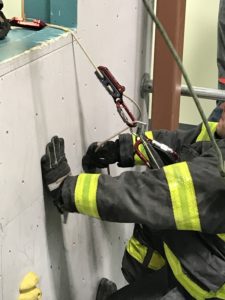 The very first FCX descenders were sold by All Hands Fire Equipment, with many units continuing to be sold as this descender gains popularity.  It should also be noted that for every FCX that is sold, $1 is donated to the Lieutenant Joseph DIBernardo Memorial Foundation.
All Hands Fire instructors also attended the very first Sterling FCX Trainer Orientation on January 23 and 24, at Sterling Rope Headquarters in Biddeford, Maine.  The attendees worked in-depth with the FCX descender, a variety of Sterling Rope products, as well as tower rescue scenarios.
Attending on January 23rd was especially emotional considering that it was the 12 year anniversary of Black Sunday, where six New York City firefighters were forced to jump from a fourth floor window in the Bronx.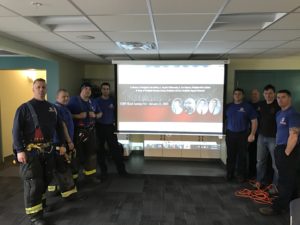 All Hands Fire Training offers training on the Sterling FCX and F4 descender,  The classes offered includes the Basic End User program, a Train-the-Trainer program, Trainer and End User refresher programs and Advanced escape systems training.
All Hands Fire has equipped and trained thousands of students
For additional information, please contact Training@AllHandsFire.com.