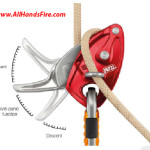 March 5, 2017:  Ropes used by FDNY members saved multiple lives today, in Brooklyn and also at a 7-alarm fire in Queens.
"I was searching the rear bedroom when the fire flashed over me. I had about ten seconds to put it on and get out the window," says FDNY Firefighter Charles Flohr, Ladder 143, who activated his P.S.S. to safely evacuate out of a 2nd floor window at a 7-alarm fire in Queens.
"I've been a Firefighter for 13 years and this is the first time I've deployed the P.S.S., but all of the training that we do kicked in. I knew exactly what to do and I felt confident."
NBC News 4:  250 Firefighters Battle 7-Alarm Fire in Queens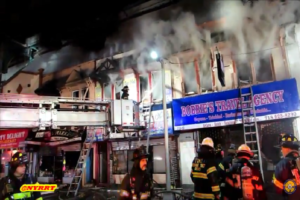 The P.S.S. (Personal Safety System) is an escape system comprised of a rope and an anchor system. It is an essential part of a Firefighter's arsenal, developed to provide members with a quick and rapid means of egress from an untenable position.
Firefighters on upper floors can face great danger if they become trapped with limited means of escape. The P.S.S. allows the member to quickly anchor to an substantial object (window sill, radiator, wall, etc) and descend safely.
All Hands Fire Equipment & Training has been a Petzl EXO dealer and trainer since 2006.  They have equipped and trained thousands of firefighter on the use and deployment of personal escape systems.  For detailed on the FDNY Personal Safety System (P.S.S.) and other escape systems, please contact Training@AllHandsFire.com, and also www.AllHandsFire.com and www.AllHandsFireTraining.com
Source:  New York City Fire Department (FDNY) Facebook page
Photo:  NYC Fire Wire Facebook page
##