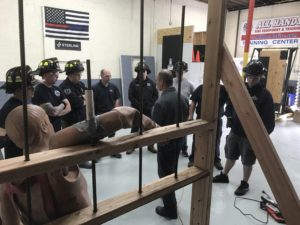 On May 20, 2017, All Hands Fire Equipment & Training hosted Man vs. Machine Rescue training class.
This is the same class that  is presented annually at the Fire Department Instructors Conference (FDIC) and at fire department's throughout the country.
The Man vs. Machine class was presented in cooperation with P.L. Vulcan Training Concepts, based in Long Island, New York.
The class began with a classroom session.  At the conclusion of the lecture, students were then broken into groups and send to one of four skill stations.  Each station presented the students with different and dynamic rescue situations, such as:
Victim with hand stuck in a meat grinder
Victim impaled on a metal fence post
Ring removals
Entrapments under vehicles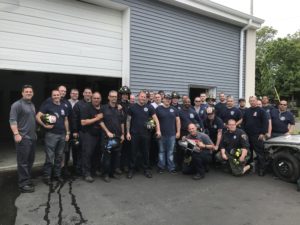 Students were shown various techniques, as well as uses of tools and devices.  They were also challenged to 'think outside the box', understanding that there not always the 'routine calls'.
The sold out full day class was held at the All Hands Fire Training Center, located in Neptune City, New Jersey.  Firefighters from throughout New Jersey were in attendance, including Brick Township, Linwood, Springfield, Neptune, Spotswood, Millstone, Roselle Park, Toms River, Woodbridge, South Brunswick and Madison.
For information on this and similar classes, please contact [email protected].
##