PUMP OPERATIONS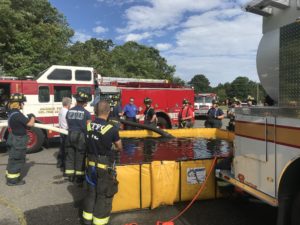 Pump Operations is a 28 hour program that includes both classroom and hands-on training.
The program meets NFPA 1002: Standards for Fire Apparatus Driver/Operator Professional Qualifications and follows the International Fire Service Training Association (IFSTA) Pumping Apparatus curriculum.
Students will be presented with essential information, written test, skills and practical exercises relevant to operating and pumping fire apparatus.
This training includes (but is not limited to):
Classroom Session
Friction Loss and Calculations
Basic Pump Operations
Dry Prime
Drafting
Hydrant Water Supply
Pumping to Handlines
Pumping to Aerials and Monitors
Relief Valve
Pumping from Tank
Relay Pumping
Foam Operations
Troubleshooting
And more…
Participants will be required to demonstrate proficiency with the delivered skills, including the use of various appliances, hose stretches, maintaining a water supply, managing proper flows and pressures, troubleshooting, foam operations and more.
All Hands Fire can adjust and modify this program to ensure that the content is applicable to the customer's specific operation, equipment, apparatus and capabilities.  The program can be customized at the customers request.
Recommended Prerequisites:
Coaching The Emergency Vehicle Operator (CEVO)
Traffic Incident Management Systems (T.I.M.S.)
To schedule this class, please contact Training@AllHandsFire.com
##